Learn to Skate Lessons
Term 1 2020 Registration Link: https://docs.google.com/forms/d/1KJH3q263wq7cCjcVKXbkL3cVxDKxdN7tHeGd2vlLNdk/viewform?edit_requested=true
Details for Term 1 2020 Lessons are yet to be confirmed. Please see below information about Term 4 Aussie Skate Learn to Skate Lessons:
Aussie Skate lessons for Term 4 are right around the corner – they'll resume 14 October 2019!
For current skaters who are returning, please attend on the same day and times as term 3. For skaters who were assessed at the end of term 3 and are moving to the next level, we will contact you directly regarding options for lesson days and times.
For new beginner skaters, be sure to sign up on the following enrolment form (https://docs.google.com/…/14zNusoBo08QReGvBRTjNwVi97kX…/edit) or feel free to call the Darwin Ice Skating Centre on 0431 053 968 and we will be happy to assist with your enrolment. Note that the enrolment form asks for skater's Ice Skating Australia (ISA) registration number as it's their program that is being coached at the rink. Link to register with ISA: https://www.isa.org.au/aussie-skate-tm
This term's lessons will again be held from Monday through Thursday, with all Aussie Skate levels offered, from Basic 1 through to Freestyle 2. The table below is our expected lesson days and start times. Some changes may be necessary pending final enrollments.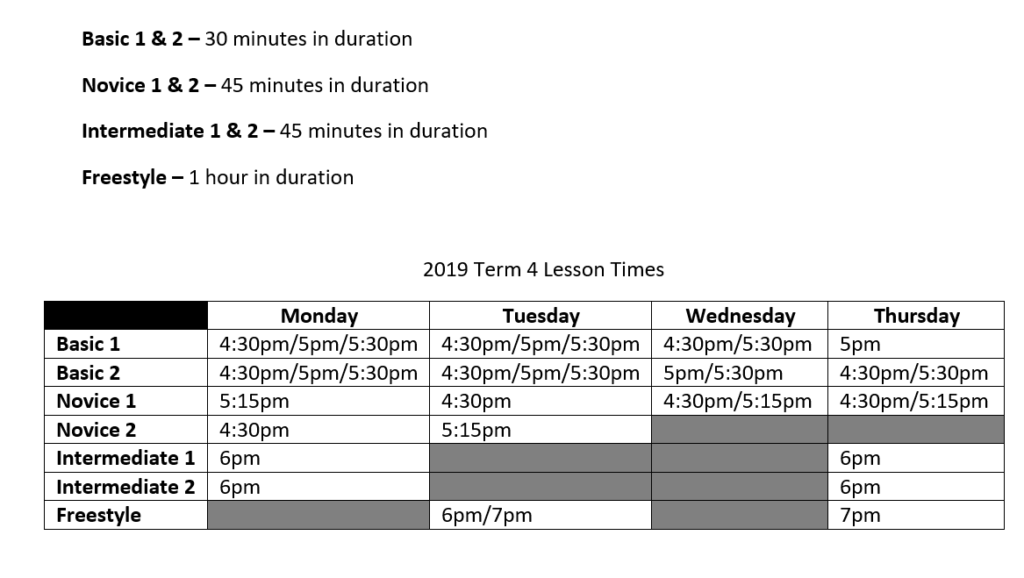 Lesson fees are as follows: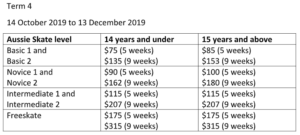 Sport vouchers accepted. Parents or carers now need to apply for vouchers online each semester – refer following link: https://nt.gov.au/…/sport…/get-sport-vouchers-for-your-child
Ice skating lessons will allow skaters to develop new skills, keep active, make friendships and have fun. Being taught correct skating techniques will allow confident progression to figure skating and ice hockey.
We look forward to seeing you on the ice and as always, Happy Skating!!
Coach Jill
Please Note: All catch up lessons must be used within the term in which they are missed.